Rob Burke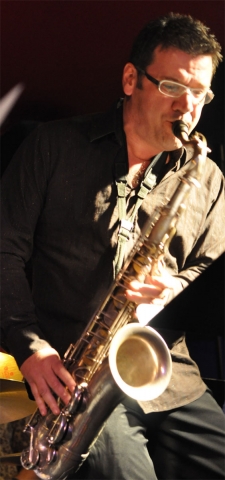 PhD (perf), MMus (perf), BMus, AmusA, Cert in Tertiary Edu
Robert Burke has enjoyed a diverse and wide-ranging career as a performer, composer and educator in music. Although classically trained on the clarinet and saxophones, his main focus as a performer has been in jazz and popular music, including eight years performing and composing with Kate Ceberano (including a top-ten Australian hit) and fifteen years with ARIA award-winning band The Black Sorrows. Rob has performed on and contributed compositions to over 200 CDs by groups ranging from pop acts such as John Farnham, Ice House, Real Life, Vika and Linda Bull, to contemporary jazz projects with leading artists including Tony Gould, Tony Floyd, Doug De Vries, Slava Gregorian, Geoff Hughes, Nick Haywood, Stephen Magnusson, Don Burrows, Tony Floyd and Mike Nock.
Rob has performed /recorded with many international jazz artists including Kenny Werner, Mark Helias, Nasheet Waits, Tom Rainey, Enrico Rava Dave Douglas, George Lewis, Red Rodney, John Abercrombie, Paul McCandless (Origon), George Garzone, Richie Barshay, Johannes Weidenmueller (USA), Lula Galvao, Roberta Valente, Hermeto Pascoal (Brazil), Mirko Guerrini, Debasis Chakroborty (India) and Qmars Piraglu (Iran)
Rob has also toured extensively through Asia, Europe, the United States and locally, including as leader of his own projects. He has studied under influential and pioneering jazz musicians including the likes of Dave Liebman, George Garzone and George Coleman in New York.
CD Releases
Recently, Rob released a duet album with Tony Gould titled Here (Jazzhead 2009), the third in a series of such collaborations and a quartet album Live at Bennetts Lane – Jazzhead (2011). In 2014 recorded a CD in New York titled Do True with pianist Kenny Werner, bassist – Johannes Weidenmueller and drummer – Richie Barshay (USA). In 2015 (again recorded in New York) The Power of the Idea was recorded and released with bassist Mark Helias, drummer – Nasheet Waits (USA), pianist – Paul Grabowsky, trumpeter Paul Williamson and trombonist Jordan Murray.
In 2015 Rob will be recording:
1. George Lewis, Mark Helias and Paul Grabowsky in July – New York
2. Debasis Chakroborty (India), Sam Evans and Steve Magnusson – Melbourne
What the critics said…
'A stunning jazz album that identifies Melbourne as a significant contributor of talent and inventive and pioneering jazz on the world stage. Beautifully recorded and presented. … This record is a collaboration of some of the most influential protagonists on the Melbourne scene and is undoubtedly a masterpiece.' - Eddie Naran – Jazz on the Street.
'An exciting tour of Melbourne. There are moments where you will get chills down your back' 4.5* - The Age Green Guide. Melbourne
'There is a romance in the tracks that comes from an exploration of a stage of jazz which has pleasured many for a long time. While gentle… it is quietly persuasive of all the life, clarity and brilliance to be found in mainstream jazz. Emotional and relaxing." Canberra Times, Canberra
Rob also performs on The Black Sorrows titles:
Lucky Charm
Better Times
See Rob on iTunes
Recent Releases
Also appears on...