Peter Knight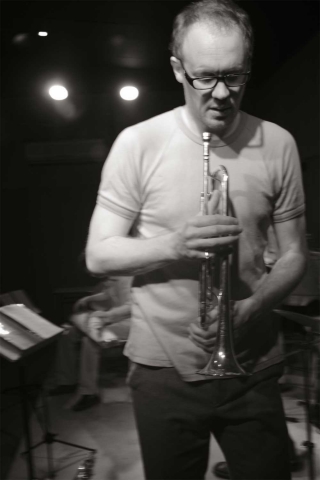 Australian trumpeter-composer Peter Knight is a multidisciplinary musician who has gained wide acclaim for his eclectic approach, which integrates jazz, world music, and experimental traditions. He leads several projects of his own and appears as a soloist in a range of settings, he also composes for theatre and film, and has created sound installations.
Peter appears internationally, with recent highlights including high profile performances with his group Way Out West at Montreal Jazz Festival, Vancouver Jazz Festival, and Veneto Jazz Festival. In 2009 Way Out West also toured Korea and Japan including concerts at Takatsuki Jazz Festival. In 2007 he performed solo (trumpet and laptop) at the Banff Centre of the Arts (Canada), and earlier this year appeared as part of Erik Griswold's Wide Alley at the Auckland Festival and Sydney Opera House.
Peter is the recipient of numerous grants and awards. In 2009 he won (with Way Out West) the Bell Award for 'Australian Jazz Ensemble of the Year.' In 2008 he was nominated for the APRA Awards, 'Jazz Composition of the Year.' In 2007 he was awarded the Rolston Music Fellowship by the Banff Centre for the Arts, which enabled him to take up a composer's residency in October 2007. Peter's work has also been supported by grants from The Ian Potter Trust, Australia Council for the Arts, Arts Victoria, Alan C. Rose Trust, Australia/Korea Foundation, Australian International Cultural Council, and The Myer Foundation. He was the 2005 recipient of the Keith and Elizabeth Murdoch Travelling Fellowship (VCA).
Peter has released five albums of his compositions in the last seven years with ensembles including Way Out West, his eponymously titled quartet, and the 5+2 Brass Ensemble. His releases have received international acclaim: "Honest, inventive and original." Hour Magazine Montreal. "Combines different styles seamlessly, [and] succeeds where so many other world music fusion groups fail." Vancouver Sun. "An unusual and beguiling sound." Cadence Review (New York). "Quietly forceful." The Age.
In addition to the projects he leads, Peter has performed and recorded with a diverse range of local and international artists including: Adam Simmons, Adrian Sherriff's 'Oynsemble', Hugh Fraser Quintet (Canada), Quinsin Nachoff (Canada), Kate Neal's 'Dead Horse Wind and String Ensemble' (composition commission), Misinterprotato, Grand Union Orchestra (UK), Allan Browne, Ren Walters' 'This Ensemble', Giorgio Magnanensi (Italy), Christian Pruvost (France), Erik Griswold's 'Wide Alley' and 'Ecstatic Music' projects, Scott Tinkler, Stephen Magnusson, The Violent Femmes (USA), Spiderbait, You Am I, The Saints, and reggae star Horace Andy (Jamaica/UK).
Recent Releases
Also appears on...