Finding the Balance (Paul Williamson Quintet)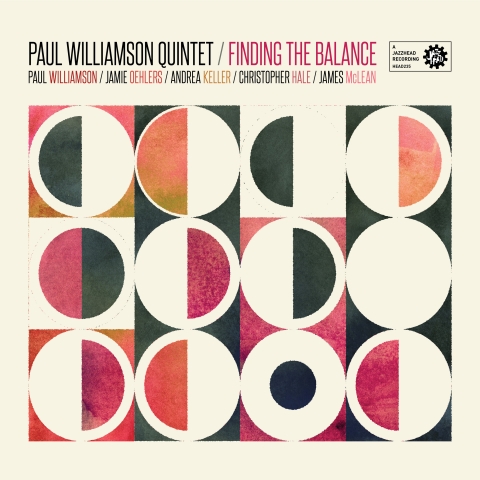 Trumpeter and composer Paul Williamson has established a reputation for producing distinctive recordings of outstanding ensemble performances. His eleventh CD release, Finding the Balance (Jazzhead), features long-time collaborators Jamie Oehlers (saxophone), Andrea Keller (piano), James McLean (drums) and Christopher Hale (acoustic bass guitar). The original compositions and group aesthetic reflects Williamson's desire to produce music with memorable themes that has the ability to take listeners on musical journeys. Expect mesmerizing improvisations, spirited interaction and complimentary individual conceptions.
Williamson has performed with international jazz artists at festivals and venues in the United States, Europe, Asia, and Australia. His recent performances include collaborations with Eddie Palmieri, Tomasz Stańko, Charlie Haden, Kenny Werner, John Abercrombie, the Australian Art Orchestra, Hermeto Pascoal, Aaron Goldberg, Django Bates, Mike Nock, Tony Gould, Nasheet Waits, Mark Helias, and the Monash Art Ensemble. In 2014 Williamson was invited by Dave Douglas to perform at the Festival for New Trumpet Music (FONT) in New York City where he premiered a program of new compositions. Williamson is a faculty member at the Sir Zelman Cowen School of Music at Monash University.
The Paul Williamson Quintet is:
Paul Williamson (trumpet)
Jamie Oehlers (saxophone)
Andrea Keller (piano)
James McLean (drums)
Christopher Hale (acoustic bass guitar)
Track Listing Show
Finding the Balance
Hook
You Can't Wear a Cape Every Day
It's Hip to be Humble
By a Thread
Yes, I'll be your Pin Cushion
When the Stars Align
Buy Music
Cat# HEAD235
iTunes
Hi Res Download
1800 802 061 Phone Orders Australia
+61 3 9537 7155 Overseas Orders