Galumphing 'Round The Nation
(Andrea Keller Quartet)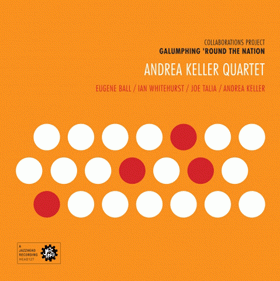 Galumphing 'Round The Nation is the inspired latest release from the award winning Andrea Keller Quartet.

Keller composed six remarkable new works for the Quartet with the idea that there be improvising room for an invited guest, the 5th part (thus making a quintet!). Initially this was arranged for the 2009 Collaborations Tour where highly regarded musicians were invited, at each new show, to sit with the Quartet and respond within the compositions.

Creating this kind of musical environment afforded these incredibly dynamic musicians great freedom to contribute their individuality to the sound of the Quartet. With this concept in mind the Quartet collaborated once again in the studio. With the breadth of experience and talent of the Quartet and esteemed guests, incredible results were produced; as though all were part of a long established quintet.
Featured on this extraordinary recording are The Andrea Keller Quartet:
Eugene Ball - Trumpet,
Ian Whitehurst - Tenor Saxophone,
Joe Talia - Drum,
Andrea Keller - Piano
and special guests: Miroslav Bukovsky (ACT) - Trumpet, Phil Slater (NSW) - Trumpet, Bernie McGann (NSW) - Alto Saxophone, Jamie Oehlers (W A) - Tenor Saxophone, John Rodgers (QLD) - Violin, Stephen Magnusson (VIC) - Guitar

This collaborations project is a recording that you must hear to believe. Stunning.
For more information about Andrea Keller and releases, click here to go to the artist page
Track Listing Show
My Old Friend


Special Guest Miroslav Bukovsky (trumpet)

For Bernie


Special Guest Bernie McGann (alto saxophone)

Galumphing 'Round The Nation


Special Guest Jamie Oehlers (tenor saxophone)

The Rain Outside


Special Guest Phil Slater (trumpet)

The Incredible View


Special Guest Stephen Magnusson (guitar)

Small Comforts


Special Guest John Rodgers (violin)

Soup Tin Baby
Smells Like Music
Buy Music
Cat# HEAD127
iTunes
Hi Res Download
1800 802 061 Phone Orders Australia
+61 3 9537 7155 Overseas Orders