Barlines and Beyond (Burke Chakroborty Evans Magnusson)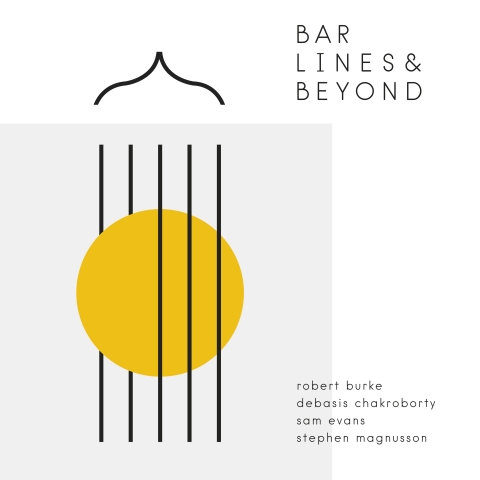 The new CD release, Barlines and Beyond explores the intersection of Western style improvisation and Indian Classical music, developing a working model for cross-cultural ensemble collaboration. The members of the ensemble come from Australia and India with musical expertise in traditional Indian music and a Western jazz/improvised sensibility which includes all original compositions.
Rob Burke and Stephen Magnusson composed compositions for improvisation over Indian modes, (which were superimposed with diatonic and pantonal harmonic approaches). Debasis Chackroborty performed within his parameters of expertise (modal) and creativity but was open to integrating the jazz approach of the Stephen and Rob. In a sense, each musician bought their own tradition to the music and adapted their expertise and creativity to the overall sonic environment and musical outcome.
Stranger
The tune Stranger was written with a chromatic melody in mind and harmonised with diatonic (often 1st inversion) voicings. The solo section includes a progression that progresses through a different key centres but is based on a singlar mode.
Tremor
Tremor investigates a contemporary compositional approach in order to situate the pitched tabla within the harmonic framework of the ensemble. The tone (Bb) sounded on the tabla in Tremor is a tonal presence in each of the chords of the composition. The different sections of the piece is permeated with the tabla taking on roles to elaborate phrasing to maintain the focus of the composition and an accompanying role to the sweet and rolling melodies sounded on the clarinet and slide guitar.
Beyond the Mountain
Beyond the Mountain is an improvisation based on a light classical dhun from North India. Initially the slow slide guitar melodies are accompanied by tabla and electric guitar with delay effects. The piece later progresses to a traditional duet at an increased tempo that concludes with multiple tabla performing a series of fast luggi's.
Tilak
This piece is an improvisation based on the North Indian Raga Tilak Kamod. This bright and optimistic piece features the ensemble performing solos and improvisations between thematic statements of the melody in a cycle of 14 beats.
Sarang
This composition is based on a mode developed to suit both a modal and pantonal approach to improvisation for western and Indian instruments; inclusive of beauty, energy, traditional sounds (familiarity) and experimentation.
Musicians:
Rob Burke - Tenor, Soprano Saxophones and Alto Clarinet
Debasis Chakroborty - Indian Classical Slide Guitar
Stephen Magnusson - Electric Guitar
Sam Evans - Tabla/Percussion
Recorded 5th June 2015
Sir Zelman Cowen School of Music - Monash University
Engineered: Hadyn Buxton
Mixed: April 16 2016, Mastered: November 2016 by Andrea Benassai
Sonoria Recording Plant, Prato Italy.
Produced by Robert Burke
Artwork by Atia Cader
Track Listing Show
Sarang


R Burke

Improvisation 1


R. Burke, D. Chakroborty, S. Magnusson, S. Evans

Tremor


S. Evans

Improvisation 2


R. Burke, D. Chakroborty, S. Magnusson, S. Evans

Tilak


D. Chakroborty

Tilak 2


D. Chakroborty

Joga


D. Chakroborty

Beyond the Mountain


D. Chakroborty

Improvisation 3


R. Burke, D. Chakroborty, S. Magnusson, S. Evans

Stranger


S. Magnusson

Tilak 3


D. Chakroborty
Buy Music
Cat# HEAD231
Hi Res Download
1800 802 061 Phone Orders Australia
+61 3 9537 7155 Overseas Orders